About Watmar Electrical Contractors
Your trusted local Gold Coast electricians
Changing the Gold Coast's electrician experience - Expect the Best
WHAT WE DO
Led by Owner and Managing Director Sharyn Watson, Watmar Electrical Contractors provide both commercial and residential electrical installations, repairs, and maintenance. As the preferred electrician on the Gold Coast, the team service an array of businesses, body corporates, hotels, real estate agencies and homeowners.
We specialise in electrical services for existing, new and renovated homes and will ensure our work meets Australian Safety Standards while also being energy efficient.
Watmar's administration team handle all client enquiries and bookings while also managing each project and ensuring everyone receives an immediate response allowing the electrician to focus on exceptional service. We fit LED light and down lights, ceiling fans and data points to name a few.
"The local electrician industry has a reputation for being quite relaxed so we pride ourselves on being efficient, reliable and trustworthy. We want our Gold Coast clients to receive the best experience and they constantly tell us they appreciate our honesty, punctuality and cleanliness", says Sharyn.
"We pride ourselves on being professional, friendly and completely upfront when it comes to providing information, time frames for jobs and invoicing. Personally, I'm extremely proud of the company particularly the fact that we have grown our team from apprentices through to tradesmen. The entire team have been part of our growth and success. We are organised to a tee, we communicate effectively, and enjoy interacting with a range of clients on a daily basis"
Watmar Electrical reviews
"Very professional service. On time and completed the job in a timely manner. Left the site rubbish free. Appliances all working well." – Jacqueline, Oxenford, QLD
"It is such a pleasure to deal with a company that turns up when they say they will, undertakes the work efficiently, does the job well and cleans up after themselves." – Chrissie, Image Ink.
OUR MISSION
Our mission is to:
provide personalised service at a very competitive fixed price.
arrive on time and leave a clean, tidy and compliant job site.
give our customers an exact time of arrival for our tradespeople and are in constant communication to relay any changes.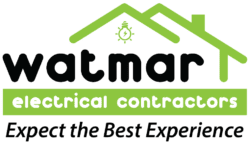 OUR STORY
Sharyn opened Watmar Electrical Contractors in 2013. As a lifelong resident of the Gold Coast, she understood the difficulty in finding a reliable local electrician.
Having been in business on the Gold Coast for over 25 years and with experience in the hotel, tourism, electrical, retail and car industries, Sharyn began receiving requests for electrical jobs. With an electrician in the family she knew she could create a successful business.
THE FUTURE
The Watmar team has grown exponentially in less than 7 years. Our dream is to continue to grow while ensuring we can adequately service our customers and withhold our position as the Gold Coast's leading electrical contractors.
Watmar will continue to invest in a comprehensive electrician training program hiring a new first year apprentice annually and offering ongoing training for the entire team.
With Sharyn and contractor business partner Bernard Marsh at the helm, the business is certain to grow from strength to strength.
To find out more about the Watmar Electrical Contractors team becoming your Gold Coast electrician, please call 1300 785 177 .
Visit us on Facebook or go to Meet the Team page, to find out more about our great team.