NBN Cabling
Professional Gold Coast NBN cabling services
If you are looking for a fully qualified and experienced electrical team to install your NBN cabling, look no further than Watmer Electrical. Our specialists have extensive experience when it comes to meeting all your NBN data cabling needs, ensuring top quality workmanship and expertise at every turn.

For a trusted, professional Gold Coast electrician contact Watmar today.

Book NBN Cabling Today
What is important when it comes to NBN cabling?
When it comes to NBN and data cabling for your home or workplace, your unique needs will determine where NBN cabling, wall and phone sockets should be placed. Always look at placing your cabling in central locations, to ensure the least interference with the signal. This includes appliances like your fridge, hot water system and even your TV - these can block signals in a variety of ways.
At Watmar Electrical, our years of data experience helps us offer advice and a few tips that ensures you get the best internet speeds to suit your needs. We understand the importance of internet in our homes and workplaces, so we always ensure top quality industry service and workmanship.

What should you consider with NBN cabling and new homes?
There are a few things you should consider when looking at NBN cabling installation for a new build:
Where is your computer going to be located? Do you have more than one? E.g. study area, home office.
Where are phone lines to be located? E.g. bedrooms, kitchen, home office.
Are there medical alarms and/or emergency call buttons to be installed?
What kinds of smoke alarms and/or fire systems are to be installed? Are they monitored?
Are home alarm systems and/or other security components being installed? How will they be powered? Will they be online?
Will your home have smart home integrations, including smart appliances?
These are just a few considerations - speak to our friendly team to learn more.
Reliable NBN cabling solutions
The Watmar electrical team understand that one size does not fit all when it comes to NBN cabling for homes and businesses. That is why we take the time to learn about your data needs and suggest solutions to suit your exact circumstances. We can also help with:
All network cabling.
Patch panel installations.
Additional data points.
Telephone points.
WIFI requirements.
Additional power points.
Powerpoints with UBS charging points.
MDF & IDF.
Why choose us as your NBN cabling team?
We are fully qualified electricians.
We provide both commercial and residential installations and maintenance.
We service an array of businesses, body corporates, hotels, real estate agencies and homeowners.
We specialise in electrical services for existing, new and renovated homes and will ensure our work meets Australian Safety Standards while also being energy efficient.
Watmar's administration team handle all client enquiries and bookings while also managing each project and ensuring everyone receives an immediate response allowing the electrician to focus on exceptional service.
We pride ourselves on being efficient, reliable and trustworthy.
We want our Gold Coast clients to receive the best experience and they constantly tell us they appreciate our honesty, punctuality and cleanliness.
We are professional, friendly and completely upfront when it comes to providing information, time frames for jobs and invoicing.
We communicate effectively, and enjoy interacting with a range of clients on a daily basis.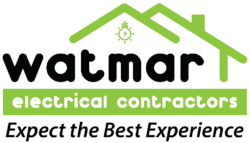 Chat to our NBN cabling experts today
If you would like to know more about our NBN cabling services, contact Watmar for an obligation free quote at 0490 361 782 or complete our quick online electrician booking request today.