Ducted Air Conditioning Gold Coast

In need of ducted aircon services on the Gold Coast?
Is the temperature in your home uncomfortably hot in summer, and uncomfortably cool in winter? Is your current air conditioning incredibly noisy and disruptive, making it hard to sleep? Is the temperature in different rooms of your home becoming unbearable? Ducted air conditioning is the answer.

Ducted air conditioning is a great addition to any home in South-East Queensland, with our weather resulting in a need for comfortable living spaces all year round. The Watmar electrical team are reliable specialists when it comes to ducted aircon of all shapes and size, so give us a call today to learn more.

Book Ducted Air Conditioning Services Now
What benefits does ducted air conditioning offer?
Ducted air conditioning has so many benefits for homes and businesses across the Gold Coast, such as:
More efficient than any other cooling system currently available.
Great for large spaces.
Unobtrusive.
Very quiet.
Allows zoning, so different rooms can be heated/cooled in different ways.
And this is just the beginning!
How much does ducted air conditioning cost?
The cost of ducted air conditioning can vary significantly, depending on a variety of factors such as:
The size of your home or workplace ie. a 5 bedroom home vs a 2 bedroom apartment.
How many people live in your home or work in your workplace.
How many ducts are needed.
How much roof space you have to work with.
How energy efficient you would like your system to be.
If you opt for zoning to different parts of your home.
Whether your home or workplace is located near the beach (salt air can corrode air conditioners, so a corrosion resistant coating may be needed).
It is best to speak to an industry professional, such as Watmar Electrical and Air, as they will be able to provide accurate guidance in relation to costings for your exact circumstances.
What ducted aircon brands do we work with?
The Watmar Electrical and Air team work with all major ducted air conditioning brands including:
And so many more. If the air conditioning brand you are looking for isn't listed above, give Watmar Electrical and Air a call on 0490 361 782 and we can likely still assist.
Who can install a ducted air conditioner?
A professional! Installing ducted air conditioning is not a DIY job for a Sunday afternoon - you need to call in a properly trained and licenced air conditioner installer to complete the task. Watmar Electrical and Air are fully licensed by the Australian Refrigerant Council to install ducted air conditioners, so you know you are dealing with the experts.
Industry leading Gold Coast ducted air conditioning installation services
When it comes to ducted air conditioning installation, you want to know that it is being completed by a professional and done right. That is why you should call Watmar Electrical and Air - we are a reputable and well-known company that takes great pride in the high levels of customer service and workmanship that we offer all across the Gold Coast. We wouldn't want our ducted air conditioning to be installed incorrectly, so you shouldn't have to either.
Complete ducted air conditioning repairs
At Watmar Electrical and Air, we don't just offer ducted air installation - we can help with maintenance, cleaning and repairs too. Our technicians can locate issues effectively and efficiently and then offer practical solutions to ensure your ducted aircon is back up and running as soon as possible. We repair all major brands, so get in contact today to learn more.
Why choose us for all your ducted aircon needs on the Gold Coast?
We are fully licensed by the Australian Refrigerant Council (ARC Licence: L109240) to install ducted air conditioners.
We are one of the Gold Coast's best electrical companies, meaning you won't need to engage another trade to manage the electrical requirements of your air conditioning installation – we can take care of everything you need.
We can provide you with all major brands including Daikin, Mitsubishi, Fujitsu, and LG and co-ordinate the delivery & installation for you.
We offer Certegy Ezi-Pay No Interest Ever finance for 36 months at no extra cost to get your air con project started today.
Our technicians are fully qualified and experienced professionals, offering you peace of mind that the job will be done right.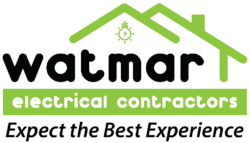 Your local Gold Coast ducted aircon team
We offer free, no obligation, in-home quotations and can size up the space to give advice on the best position for installation. Contact Watmar for an obligation free quote at 0490 361 782 or complete our quick online air conditioning booking request today.