Mitsubishi Heavy Industries Air Conditioning
Top-quality MHIAA air conditioners
If you are looking for a quality air conditioning solution for your home or business, then Mitsubishi Heavy Industries is one brand you must consider.
As a company, Mitsubishi Heavy Industries Air Conditioners Australia (MHIAA), has become a major supplier of commercial and residential air conditioners not only within Australia but also other South Pacific countries. They manufacture a range of technically advanced energy efficient air conditioning systems that will suit any of your cooling/ heating needs and/ or requirements.

Book Air Conditioning Today
Premium quality air conditioning options
From our company's point of view, we choose Mitsubishi Heavy Industries because we know that not only are the systems efficient and reliable, but they also share our views on customer care and being an innovative partner of society. This means that from the manufacturer to the wholesaler to the installer, we can make sure that you're provided with the very best service each step of the way.

Canstar Blue Most Satisfied Customers award 2019
MHIAA was awarded the Canstar Blue most Satisfied Customers in the air conditioning category at this years awards. The amazing performance scored 5 stars for overall satisfaction, functionality, quietness, and reliability, and 4 stars for ease of use and value for money showed that the MHIAA air conditioner range and service are proven winners.

This award follows another great industry accolade with MHIAA winning the Choice Best Brand award in 2018.
MHIAA split system air conditioners
With a range of 11 different models of split systems to choose from ranging in power from 2.5kw to 9kw, there is a solution that is perfect to your needs. Plus, their SRK-ZMXA range offers up to 6 stars of energy efficiency.
MHIAA ducted air conditioning systems
If you are building a new home or renovating your current one, you may like to consider a ducted air conditioning system. A ducted aircon is a great option if you are looking for the most cost effective way to cool or heat your entire home.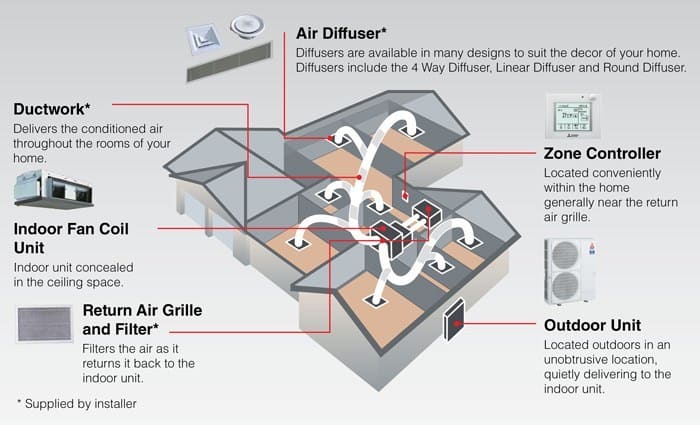 Another advantage of a ducted system is you only require one outdoor unit which reduces the amount of outdoor space required. These systems come with My Air – a climate control system you can operate from your mobile phone or a tablet provided with the system.
Your local MHIAA air conditioning specialists
Contact Watmar for an obligation free quote at 1300 785 177 or complete our quick online air conditioning booking request today.