Ceiling Fans Gold Coast
Looking for a great ceiling fan installers?

Cool your home for less with ceiling fans. They are functional, stylish and cheap to run. Our team of licensed electricians can install or replace ceiling fans in homes and businesses across the Gold Coast. Whether you have purchased your fan online or in-store, or are unsure which ceiling fan is right for you, we can help you pick the perfect fit. We also supply and install ceiling fans from all the leading brands. Contact Watmar's electricians today for professional ceiling fan installation throughout the Gold Coast.

Book Ceiling Fan Installation Today
The amazing benefits of ceiling fans

Ceiling fans can make your room feel four to five degrees cooler.
They can complement your air conditioning unit by circulating the cooled air throughout the room.
Some ceiling fans come with lighting fixtures and remote control so you control them with the click of a button and avoid the strobe lighting effects from a fitting a fan over a light fitting.
Fans are energy-efficient and offer significantly lower running costs compared to air conditioners.
Ceiling fans can be used throughout the year - in colder temperatures they can spread warm air downwards from the ceiling. You can change the direction of rotation to anti-clockwise in the winter to increase the effectiveness of your heating.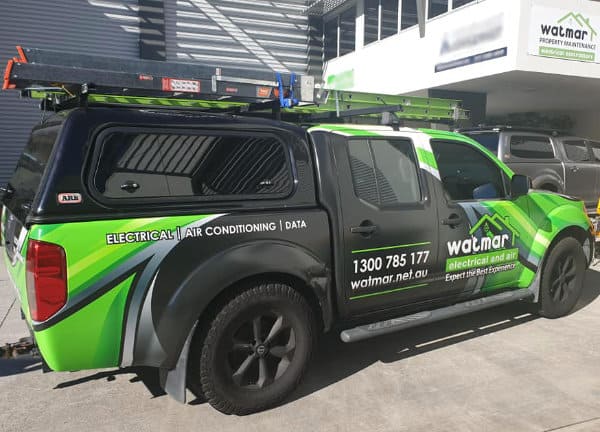 Install or replace ceiling fans across the Gold Coast

We have installed thousands of ceiling fans and would like to help you out too! We provide installation and repair services for:
DC ceiling fans
AC ceiling fans
Coastal fans
Indoor and outdoor fans
Fans with timber and metal blades
Ceiling fans with and without a light
Ceiling fans with a remote
Installation of ceiling fan accessories like a light, extension or remote

We specialise in finding installation solutions for low ceilings, cathedral ceilings and exposed beams. No matter what your budget is, our team has the perfect ceiling fan for you.
Our electricians can also take care of moving light fittings if needed.

Consider Watmar Electrical for ceiling fan installation

Whether you are looking to install or replace ceiling fans, leave it to the professionals at Watmar Electrical. Our licensed master electricians will install your ceiling fan professionally and efficiently. We will clean up after the job and leave your house in pristine condition. Our electricians can also help you choose the right size of the ceiling fan and install it to your utmost satisfaction.

Beat the heat this summer with an energy efficient ceiling fan. Call us now on 1300 785 177 or book our online ceiling fan installation form today.